Gorillaz Game, Escape To Plastic Beach, Now Available With New Single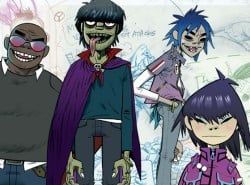 A multi-format, multimedia experience has just become available in form of a music-inspired game called Escape to Plastic Beach. And if that info alone doesn't knock your noggin for questions, it's a game based on the Gorillaz music band. Still confused? Well, don't worry…so am I.
According to the press release…
Well I hope that explains it all. The main character stars Gorillaz' bassist, Murdoc, but other cast members of the game include the members from the group such as 2D and Cyborg Noodle.
What's more is that the first two chapters of the game happen to be free-to-play , with the optional third chapter having a small fee attached to it. Gamers and music lovers alike can check out Escape to Plastic Beach by visiting the Official Website.
Staff Writer at CinemaBlend.
Your Daily Blend of Entertainment News
Thank you for signing up to CinemaBlend. You will receive a verification email shortly.
There was a problem. Please refresh the page and try again.