Green Peace Ships And Missions Featured In New Ship Simulator Extremes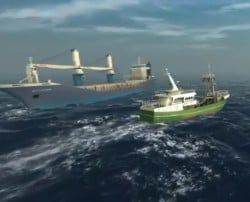 Gamers who always thought about having an adventurous life out on the sea while saving the planet from certain eco-terror disaster can do so while playing as Green Peace dudes. Two of Green Peace's ships are featured in the new Ship Simulator Extremes, the current ship, the Esperanza, and the yet-to-be-built specialty vessel, the Rainbow Warrior III.
As stated in the press release…
What's more is that players who take on the Green Peace missions have to abide by the Green Peace rule of none-violence. Best put on that thinking cap on figuring out how to commandeer that whaling ship then.
You can check out the official launch trailer for Ship Simulator Extremes or visit the Official Website to learn more about the game.
Your Daily Blend of Entertainment News
Staff Writer at CinemaBlend.