Grimlands Trailer Teases Us With Everything We Thought RAGE Would Be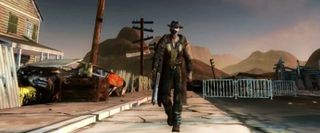 The id Tech 5 engine made its way onto the market thanks to id Software's RAGE, an AAA game published by Bethesda and sporting the latest and greatest in visual technology and graphical effects. The upside was that the game ran and looked good on consoles, the downside was that the gameplay aspects were a bit lacking to be an open-world exploration game, as indicated in Pete's review for RAGE.
Gamers who are looking for a more balls-to-the-walls action spree made in a similar vein to RAGE but with a hint of Red Dead Redemption and Borderlands, will probably find exactly what they're looking for in Gamigo's upcoming sanbox-style, scavenge-and-survive MMORPG shooter, Grimlands.
The latest trailer for Grimlands makes it well and clear that players will have a vast world to explore, vehicles to craft, repair and maintain, a wide variety of weapons and classic FPS mechanics to use, as well as RPG elements to tie it all together, something many post-apocalyptic fans were hoping to get out of id's RAGE. Check it out in the trailer below.
Graphically the game doesn't look groundbreaking but I think it's safe to say that if you want to stick with a pretty looking game you can dip back into the world of RAGE to see all "teh purdy textures". If you're the kind of post-apocalyptic fan looking for something that has a bit more edge to its bite and potentially more hardcore than Icarus Studios' Fallen Earth then Grimdlands seems to be the game to fill that void.
Again, mad props to Gamigo for publishing games that fill in the sub-genre gaps with these core niche titles, sort of like Black Prophecy and the upcoming Nexus Conflict. They definitely want to set themselves apart from the rest of the herd, that's for sure.
You can learn more about Grimlands by paying a visit to the Game's Official Website.
Staff Writer at CinemaBlend.
Your Daily Blend of Entertainment News
Thank you for signing up to CinemaBlend. You will receive a verification email shortly.
There was a problem. Please refresh the page and try again.