Guess The New eDimensional Product And Win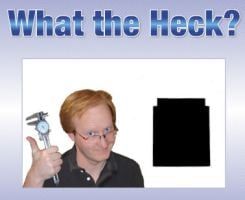 Accessory manufacturer eDimensional has teamed up with renown modder Benjamin J. Heckendorn to form a contest of massive mysterious proportions. The contest, appropriately named the "What the Heck?!" contest, will reward the eagerly anticipated gamer who can guess what Ben is designing next.
I know it seems weird, but it is what it is. For a guy who designs products that are overly fascinating to the average minded gamer, eDimensional thought they could poke the brains of consumers by getting them to guess what the heck Ben could possibly be designing. For those who guess correctly they will win a signed copy of the product once it's released.
"It's been an absolute pleasure working with Ben on the new eDimensional product. He's full of fantastic ideas that are truly inspired by the hard-core gamer, which is exactly who we design our products for." Says eDimensional CEO, Michael Epstein. "We've really given him free reign to fulfill his creative vision and are thrilled with how the new product looks and performs. We can't wait to offer a benheck original to the entire gaming community."
Benjamin J. Heckendorn, A.K.A., Benheck, has developed recognition in the industry for his amazing creative technological prowess, including such things as his popular Xbox 360 laptop, portable Atari handheld, controllers, console gaming accessories and more. This competition gives eager gamers an opportunity to partake in the highly anticipated release of Ben's newest project by guessing exactly what it is.
Ben had a few comments to share, saying "I'm really excited about releasing my latest for their contributions and support in making my latest creation a reality
For clues, participation information and details regarding the "What the Heck?" contest, be sure to visit the Official eDimensional Website.
Staff Writer at CinemaBlend.