Guild Wars 2 Queen's Jubilee Will Bring New Activities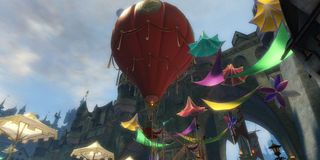 Next week Guild Wars 2 will celebrate the tenth year of Queen Jennah's reign. Players are cordially invited to participate in the Queen's Jubilee at the human capital of Divinity's Reach.
You can get to Divinity's Reach by hitching a ride on one of the many hot air balloons throughout the world starting on August 6th. The celebration will kick off with the Queen opening a Crown Pavilion arena. You can step into the arena yourself and fight various enemies to earn new rewards. The Queen's Gauntlet will pit you against a series of bosses that you have to fight alone. You can earn better rewards by placing additional conditions on the fight. Players can also take a break from the bloodshed by racing around Divinity's Reach and lighting all of the Beacons of Kryta within a time limit. Completing the meta achievement for the Jubilee will unlock a miniature Watchknight pet.
The event also brings new Watchwork parts for use in crafting recipes . These parts can also be spent on vendors at the Crown Pavilion to buy recipes, Watchknight Tonics or a Sovereign Weapon Set. One of the new recipes includes a Watchwork Portal Device that can create personal portals.
GW2 players can also expect new game-wide features. Players will now receive a small money reward for completing an explorable or story dungeon once per day. Champion mobs will drop bonus loot bags that include crafting materials, skill points and more. You can keep track of all your loot with a new Account Wallet, which stores your in-game currencies across all characters.
Player-versus-player also received its usual batch of revisions. The new PvP solo queue will allow you to test your might head-to-head against other lone players. Supply Mastery for World vs. World will allow you to more efficiently use supplies in battle. Players can now select default Finishers for PvP and WvW as well. Large-scale battles like WvW will become more manageable for players with older systems thanks to a graphics feature that reduces the level of detail on effects in very intense situations.
Though the event will kick off on August 6th, ArenaNet will give the world a sneak peak on the previous day. They'll be hosting a livestream of the Queen's Jubilee content through Twitch.TV on 12PM PDT on the 5th.
ArenaNet now adds new events to GW2 on a two-week cycle. This new "living world" strategy is possible because they're able to release patches on their own schedule on PC. The company believes it wouldn't be plausible on consoles.
Staff Writer at CinemaBlend.
Your Daily Blend of Entertainment News
Thank you for signing up to CinemaBlend. You will receive a verification email shortly.
There was a problem. Please refresh the page and try again.