Guild Wars 2 Wintersday Trailer, Event Schedule Released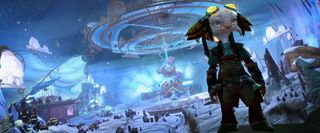 ArenaNet provided further details on Guild Wars 2's Wintersday event today. Wintersday is a Christmas-like celebration that will bring new activities and items for players to experience.
The Wintersday event will officially kick off on December 14th, with snowmen and other holiday trappings appearing throughout the realm. The Mystic Forge in Lion's Arch will be transformed into a giant snow globe and feature three new activities. These diversions include a new jumping puzzle, a PvP snowball fight, and a bell choir musical activity.
Toymaker Tixx will begin touring Tyria in his massive airship/workshop on December 15th. He'll start off in The Grove and then travel to Divinity's Reach, Black Citadel, Hoelbrak, and Rata Sum in subsequent days. At each stop, Tixx will unveil a new toy. Players will be able to take part in events related to his latest creation.
Tixx's airship will arrive in Lion's Arch on December 20th and then stay there until January 3rd. While the airship is docked at Lion's Arch, players will be able to play any of the previous toy events. They'll also be able to access a new event called Toypocalypse, in which all the toys in the workshop go haywire and need to be stopped.
The Wintersday celebration also brings new holiday-themed items to purchase. The Black Lion Trading Company now has a variety of clothes, weapon skins and other equipment to help players commemorate the holidays.
The trailer for the event, along with some new concept art, is below.
Image 1 of 3