Halo 3 Beta Registration Begins Today!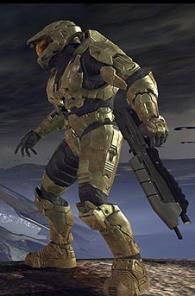 I don't think the IRS will ever get anyone this excited about doing their taxes, but I'm sure people will be flocking to fill out the registration forms for Microsoft's legitimate hype-machine, Halo. If you didn't know, Halo 3 had a special ad running during ESPN's broadcast of Monday Night Football. The 60 second trailer will also be accessible on Xbox Live for download. Oh yeah, and the official Halo 3 website is open for registration.
Like most posts, I would wait until I finish telling you about Halo 3 and all this other stuff...but I'm doing something a little different this time. Seriously, you can just go on and register for the Multiplayer Beta For Halo 3. So you don't have to finish reading the news to go get your game on.
For those of you who have waited patiently, you'll be rewarded to know that in a press release by Microsoft, they stated that "This Halo 3's website]is not the only way Xbox 360 gamers will have access to the beta, and registration at Halo3.com is not limited to a first-come-first-served basis."
The press release continues on to say "We are working hard to ensure as many current and future Xbox Live gold members around the world as possible have access to the Halo 3 public beta, and we will be announcing additional ways to gain access in the coming weeks."
Staff Writer at CinemaBlend.
Your Daily Blend of Entertainment News
Thank you for signing up to CinemaBlend. You will receive a verification email shortly.
There was a problem. Please refresh the page and try again.