Halo 3 Heroic Map Pack Drops In December - Screenshots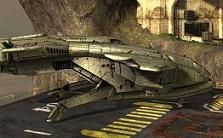 Hey, would you like some new Halo 3 maps? Well, Happy Holidays you team killing bastard, because Bungie's preparing to unleash a new set in December. The three maps will be packaged together in a "Heroic Map Pack" reign of multiplayer fire on the masses. As with all maps in the game, these will be fully customizable using the Forge system to place objects, weapons, and vehicles.
According to the press release there will be three maps in the pack. "Standoff" is a symmetrical valley, with bases and boulders set for mid-sized objective and Slayer games. "Rat's Nest" brings indoor vehicle combat to Halo online multiplayer, and is based on the Campaign mode. That has me exciting in the pants area, because there's nothing better than rolling over some Grunts in a warehouse or tunnel. Doing the same to your brother online will be sweet justice. The last map is "Foundry," and if I'm reading this right – which is questionable due to late night gaming fatigue – Bungie is going to allow some level of geometry customization.
Every object in the map is editable. We all have the gametype master, and Forge fanatic, on our friends list. Now they'll be able to place stairways, walls, bridges and tunnels. If you can dream it – and that'll likely mean a mass influx of Halo: CE remakes by the community – then it should be possible. We're not sure how robust the system is, and if such a version of other maps could eventually be released. If the community doesn't cock it up, we may see more of highly customizable maps in the future.
The Halo 3 Heroic Map Pack will be available on December 11th for 800 MS Points. Hi-res screens of the new maps can be found below.
Staff Writer at CinemaBlend.
Your Daily Blend of Entertainment News
Thank you for signing up to CinemaBlend. You will receive a verification email shortly.
There was a problem. Please refresh the page and try again.