Halo Wars Release Date Not Changed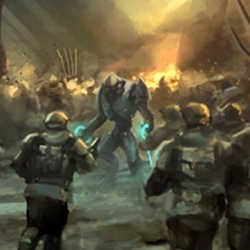 During Microsoft's keynote at CES 09, Robbie Bach, President of Entertainment & Devices Division, announced that Halo Wars will hit stores on February 28th, a full week earlier than expected. Apparently he misspoke. It is true that a demo is coming out, though.
The game is still set to hit stores on the original release date of March 3rd. To clear up any other confusion about the release, a spokesperson for Edelman, Microsoft's PR company, just sent over the global release schedule for the game:
Japan and Asia Pacific: Feb. 26
EMEA: Feb. 27
Americas (US, Canada, Mexico and South America): March 3
The spokesperson did confirm that, as Bach said in the keynote, a demo will be released for the game on Xbox Live on February 5th so that's good. Still, no more apocalyptic Halo vs. Killzone launch showdown on the last week of February. Now what are we going to do with all those t-shirts we printed up this morning?
Staff Writer at CinemaBlend.
Your Daily Blend of Entertainment News
Thank you for signing up to CinemaBlend. You will receive a verification email shortly.
There was a problem. Please refresh the page and try again.