Happy Wars Gets Castle Crashers Gear, Easter Update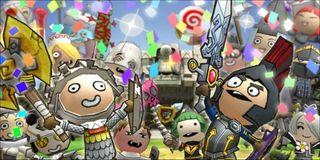 Peanut butter and jelly. Sushi and sake. Buttercup and Wesley. Few things in this world go together quite so perfectly as these legendary pairings but, over on the gaming front, we may be gearing up to witness yet another match made in heaven. Toylogic Inc. has announced that their free-to-play battle game, Happy Wars will be partnering up with another 2D smash-a-thon favorite, Castle Crashers.
Yes, folks, Castle Crashers and Happy Wars are about to play nice, bringing in some recognizable content from the former and injecting it oh-so-lovingly into the latter. And all you have to do to experience said content for yourself is dive into the game's Bounty Hunters mode.
"By playing the Bounty Hunters mode in Happy Wars, you will receive equipment styled after the Blue Night and the Barbarian," reads a statement from Toylogic. "Also, if you have at least one unlocked Achievement from Castle Crashers, you will get one Barbarian item right away."
In order to grab all of these in-game goods, you'll need to get in as much playtime as possible between now and next Wednesday, April 23. That's when the promotion runs out. Toylogic doesn't state if this is just a "while the promotion runs" type of event, but I can't imagine that they'd take away your Blue Knight and Barbarian gear after the clock runs down on April 23.
But that's not all of the news concerning Happy Wars today, as the developers also have a couple of announcements concerning the in-game shop and a special Easter celebration.
"The Item Shop, which was refreshed in the April major update, is now running a 25 percent discount," continues the press release. "During this period, Premium Memberships and Support Items are offered at a discounted price. Now is your chance to try these new features out. Premium Memberships and Support Items can be saves for later use, so you can stockpile them during the discount period and use them later."
As for that Easter event, the game's castles and Sacred Armor spell effects are now decorated with Easter Eggs, as is the Bounty Hunters mode theme, giving players a chance to bring some lovely pastel colors into this game of cartoonish bloodshed.
For those who are unfamiliar with the game, Happy Wars is a multiplayer action brawler for up to 30 players taking part in PvP battles. Basically, you run around the battlefield as adorable little customizable soldiers, murder other soldiers in adorable ways, and try to achieve your goals before they do. If you've got an Xbox Live Gold account, you can dive into the game on the Xbox 360 at no charge.
Your Daily Blend of Entertainment News
Staff Writer for CinemaBlend.