Hawken Will Use SpeedTree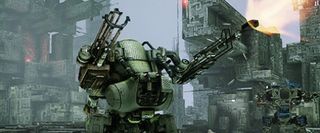 Adhesive Games has announced that their upcoming first-person mech shooter, Hawken, will not go about things in the long about way. The developers have acknowledged that they're using the latest in foliage and procedural tree generation with IDV's SpeedTree.
Cameron Kirby, 3D Artist at Adhesive Games commented in the press release, saying...
I'm not sure why more studios don't throw some SpeedTree into their games. It's like using steroids to bulk up for pro-wrestling or to get an edge at the Olympics. I mean, it just makes things easier, yeah?
Just as a little heads-up, IDV (Interactive Data Visualization) has had SpeedTree around for quite some time. It's been used in a lot of big games out there, including many of Epic's titles such as Gears of War. The content creation utility enables developers to easily and quickly throw out trees, leaves, foliage and greenery in record time without having to hire separate artists to slave away at manually designing such objects. It easily and conveniently make the art design process that much easier.
Now if only there was a solution for broken down buildings and dystopian cyberpunk environments. I'm sure a middleware company could make a killing on that.
You can look for Hawken to launch on the 12th of December of this year. For more information about the game be sure to pay a visit to the Official Website.
Staff Writer at CinemaBlend.
Your Daily Blend of Entertainment News
Thank you for signing up to CinemaBlend. You will receive a verification email shortly.
There was a problem. Please refresh the page and try again.