Hearthstone Beta Keys Sent Out To Everyone Who Signed Up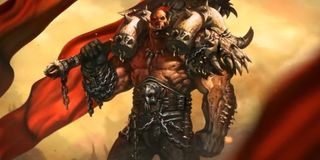 If you opted into the Hearthstone: Heroes of Warcraft closed beta, check your account. You should have a beta invite waiting for you now.
Beta invites are being given to every player who opted into the test before January 7th. This is the final round of beta keys before Hearthstone's open beta begins.
Blizzard said this morning that the "majority" of these invites had been sent out. Producer Yong Woo then tweeted that everyone who opted in should have received one by now. Even if the email got lost in your spam folder, though, you can still access the beta.
"If your account was successfully flagged for beta access, your account was also sent an email with instructions on how to download and install the game," Blizzard said on the official Hearthstone forums. "If you cannot find this email for any reason, please go to your Battle.net Account Management page - The Hearthstone license should be visible under 'Summary' - 'Your Game Accounts' if your account was flagged for beta access."
You should be able to download the game client directly from your Battle.net account page. You'll need to download the Battle.net desktop app first, though. The desktop app allows you to sign in once and access every Blizzard game on your computer. It also auto-updates these games.
Hearthstone: Heroes of Warcraft is a multiplayer card game inspired by Warcraft lore. Players will take on the role of prominent series characters like Gul'dan, Jaina and Thrall in one-on-one matches. Each character has access to a different set of minion, ability and item cards. The player's objective is to use these cards to reduce the enemy's character to zero health. I'm garbage at the game but still enjoy it.
It's no longer possible to opt into the closed beta. Don't worry, though, because the open beta isn't far off. Blizzard has promised that the open beta would kick off in early 2014. The flurry of invites are a sign that open testing is extremely close. This week's patch, the final balance update of the closed beta, is another.
Blizzard's plans for the game beyond the open beta include an iPad version and expansion packs. They've hinted that these expansions could incorporate Diablo and StarCraft characters.
Image 1 of 6
Image 2 of 6
Image 3 of 6
Image 4 of 6
Image 5 of 6
Image 6 of 6
Staff Writer at CinemaBlend.
Your Daily Blend of Entertainment News
Thank you for signing up to CinemaBlend. You will receive a verification email shortly.
There was a problem. Please refresh the page and try again.