Heroes Of The Realm Offers Card Battle RPG Action On Christmas Eve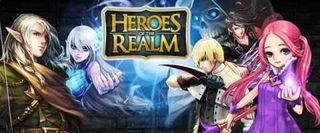 Moving out of beta and into an official launch, OGPlanet has partnered with Bluceansoft Corp. to bring the latest free-to-play CCG to the U.S., Heroes of the Realm. While it might not have the most creative name, HotR certainly looks to be upping the ante for digital CCGs, offering roleplaying elements and loads of content to flesh out the card-based battling system when the game finally launches on Dec. 24.
The kingdom of Midland is crumbling thanks to a 300-year war that has utterly devastated the land's three main regions. The player's job is to finally turn the tide of battle. You'll do this by collecting new heroes to join your ranks, expanding your kingdom with new structures and abilities, creating battle strategies and optimizing formations, then heading into war and reign supreme. Easy, right?
An army is only as strong as its heroes, and its heroes are only as strong as their ruler's planning. Your job will be to create clever battle formations, utilize enchantment cards and even combine heroes to unlock even more powerful allies.
Heroes of the Realm sports more than 350 Heroes to collect and utilize with additional characters planned for upcoming DLC. Along with the single player campaign, player versus player combat will be available, all in a browser-based format that requires no download and costs exactly zero dollars.
For more information on Heroes of the Realm, head on over to the game's official website. Otherwise, you can start playing as soon as the game goes live on Dec. 24. Who wants to spend Christmas Eve with the family when you could be ruling a kingdom, amiright?
Your Daily Blend of Entertainment News
Staff Writer for CinemaBlend.
Your Daily Blend of Entertainment News
Thank you for signing up to CinemaBlend. You will receive a verification email shortly.
There was a problem. Please refresh the page and try again.