Hideo Kojima Doesn't Plan On Fading Away Anytime Soon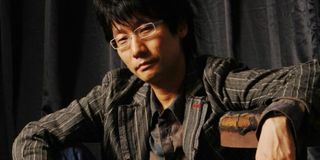 The creator of the Metal Gear Solid series, Hideo Kojima, turned 52 on Monday, and with that, he declared that he will continue creating for his entire life.
As GameSpot reports, Monday also happened to be the day several reviews for Metal Gear Solid V: The Phantom Pain went live. They were all very positive reviews, so they likely made a good birthday present for the creator, especially with 9s and 10s all around from those who attended a special review event and worked off of review copies ahead of the game's September 1 release.
Of course, it's not clear how Kojima plans to continue said "creating," as that could mean several different things. We all know by now that Kojima is rumored to be leaving Konami after Metal Gear Solid V: The Phantom Pain is officially released.
We already saw the cancellation of what could have been one of the most impressive horror collaborations in some time with Silent Hills, an effort that seemed as though it could absolutely produce one of the greatest horror adventures we'd seen in quite some time. P.T., the playable teaser that gave us a glimpse into that world, was an excellent window into what could be done if Guillermo del Toro and Hideo Kojima had been allowed to work together as intended on the project.
Perhaps Kojima is envisioning a very different future than what we're thinking. It'd be interesting to see if he were wanting to do some sort of film project or even other types of media with other Hollywood types, especially since he's got an eye for the dramatic, as seen with his excellent Metal Gear Solid V: The Phantom Pain trailers and games in general.
It's uncertain, however, what the developer's future will be. What studio would he go to next? What franchises are in dire need of the attention he's given Metal Gear so far? It'll be a brand new frontier wherever he goes and for whatever he decides to make, that's for sure. My prediction is that he's probably already hard at work on another feature title already and this entire thing will blow over, revealing a confident creator who knows what he wants and what he wants to make. Whatever the case may be, personally I'm excited to see what he comes up with.
Your Daily Blend of Entertainment News
Your Daily Blend of Entertainment News
Thank you for signing up to CinemaBlend. You will receive a verification email shortly.
There was a problem. Please refresh the page and try again.