Hideo Kojima Will Get Lifetime Achievement Award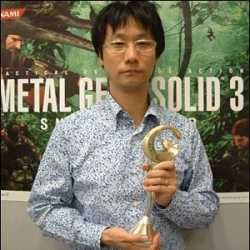 Lifetime achievement awards aren't just for character actors on the brink of death anymore. Next month at the 2009 Game Developers Conference, Metal Gear creator Hideo Kojima will be awarded the Lifetime Achievement Award for his long career in game development.
"For years, Hideo Kojima's contributions to game development have broken new ground and inspired the community to think about creating games in never-before-imagined ways," said Meggan Scavio, event director of the Game Developers Conference," said GDC event director Meggan Scavio in the official press release announcing the award (via GameSetWatch).
Added Scavio:"From giving birth to the stealth action game genre to showing game makers how to interact with their players by breaking the 'fourth wall,' Kojima's achievements make him an obvious choice for an award that in previous years has gone to luminaries including Sid Meier, Shigeru Miyamoto, Richard Garriott, Eugene Jarvis, Mark Cerny, Gunpei Yokoi, Yuji Naka and Will Wright."
Kojima will be given his award at the Game Developers Choice Awards ceremony on Wednesday, March 25th at the Moscone Convention Center in San Francisco. The two other special awards chosen by the Game Developers Choice Awards advisory board are the Pioneer Award for developing a "breakthrough technology, game concept, or gameplay design" and the Diplomat Award, which goes to the person who helps the video game industry's standing in wider society or builds a community within gaming. Alex Rigopulos and Eran Egozy of Harmonix (the Rock Band developer) will receive the Pioneer Award while the Diplomat Award will go to Tommy Tallarico, co-creator of the Video Games Live concert series.
Staff Writer at CinemaBlend.
Your Daily Blend of Entertainment News
Thank you for signing up to CinemaBlend. You will receive a verification email shortly.
There was a problem. Please refresh the page and try again.