Homeworld Remastered Beta Coming In February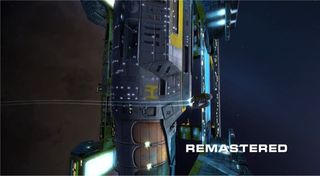 Gearbox Software dropped some new information, details, a release date and a trailer for the upcoming Remastered edition of Homeworld. The bundle contains both Homeworld and Homeworld 2 and will be available for only $34.99 starting February 25th. Those who pre-order the game will be able to access the multiplayer beta that kicks off when the game launches at the end of February.
The news came tumbling out of the PAX South event this weekend, where Gearbox detailed their undertaking of revitalizing one of the most critically acclaimed games during the end of Sierra Interactive's run as a notable publisher.
Over on the Gearbox Software website, Brian Martel, Chief Creative Officer at Gearbox Software commented about the news, saying...
Gosh, I remember way back in the day that 3D accelerators were just coming into their own when the original Homeworld was out. You needed a nice, beefy rig with a decent Voodoo or Diamond card to get the most out of the game. Now, any laptop or desktop is too powerful for the original games and you need compatibility patches just to run them correctly. My how times have changed, eh?
You can see the remastered edition of the Homeworld games in action with the trailer below.
Gearbox is really aiming to hit hard with that nostalgia stick. And even though they completely remastered the graphics and brought the visual complexity of the ships and atmosphere up to par for today's generation of gaming technology.
I do wonder how much of the engine they've had to overhaul to support denser 3D geometry and higher-definition textures? Some games run into problems being upscaled for today's technology because the software wasn't designed to process that level of detail.
Nevertheless, Gearbox brought on former members from the original design team at Relic to help remaster the. Rob Cunningham, who co-founded Relic Entertainment and served as the original art director of Homeworld, commented about the real-time strategy space sim being re-released, saying...
With Star Citizen still a ways off from release, Elite Dangerous not quite living up to expectations, and Limit Theory still heavy in development, gamers itching for a large-scale space simulation experience can look for Homeworld Remastered Collection this February.
Staff Writer at CinemaBlend.