Hothead Announces The Baconing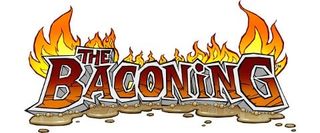 Super Meat Boy won't be the only meat-based game on the market soon. Today Hothead Games announced The Baconing for a summer release.
Baconing is a "standalone experience about the mythology of the Bacon Fires." Hothead also calls it a "comic adventure." That's about all they reveal, though.
"With an epic name such as 'The Baconing' we didn't want to detract from one of the most memorable video game names in history, so we created a trailer that shows only the title logo," said Hothead of the debut trailer, which you can watch below. "This trailer explains half of the story about how we arrived at this name, the other half of this story is down to one of our loyal fans."
Very mysterious. Perhaps the developer will be more forthcoming about the game at E3.
Staff Writer at CinemaBlend.
Your Daily Blend of Entertainment News
Thank you for signing up to CinemaBlend. You will receive a verification email shortly.
There was a problem. Please refresh the page and try again.