How To Download Jetpack Joyride For Free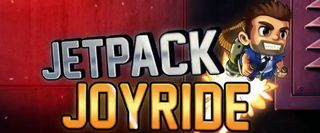 Halfbrick Studios' iOS game Jetpack Joyride costs a mere dollar to purchase. You won't even need to pay that much now, though. Apple is offering gamers a chance to download it for no charge.
All you need to do is sign into Facebook and "like" the Apple App Store page. Yep, it's that simple. C'mon, you've liked much less deserving things on Facebook before. Plus, following the Apple App Store will make sure you're in the loop for future promotions like this.
Joyride is an action side-scroller in which you avoid obstacles and collect gold coins. You can then cash in these coins at an in-game store for all sorts of little extras. The hunt for gold coins, along with the sub-missions for each level and leaderboards, make it a surprisingly addictive experience.
No word on when the promotion will end. Best to hop on it as soon as you can.
Staff Writer at CinemaBlend.
Your Daily Blend of Entertainment News
Thank you for signing up to CinemaBlend. You will receive a verification email shortly.
There was a problem. Please refresh the page and try again.