Humble Indie Bundle V Includes Bastion, Psychonauts, Limbo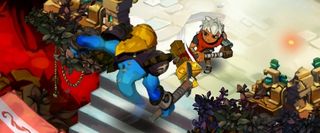 Humble Bundle Inc. is now selling another collection of indie games for charity. Humble Indie Bundle V provides you with 4 or 5 games for a price of your choosing.
Regardless of how much you pay, you'll be able to download horror game Amnesia: Dark Descent, cult classic Psychonauts, platformer LIMBO, and adventure game Superbrothers: Sword & Sworcery EP. However, if you pay more than the average contribution - currently $7.12 - you'll also receive action RPG Bastion. Digital soundtracks are also included.
Each game in the bundle works on PC, Mac and Linux systems. You'll get DRM-free copies of each. If spend $1 or more on the bundle, you'll get Steam keys as well for Mac and Windows.
This is a pretty absurd bargain, even if you pay the $7 or so to get Bastion. Amnesia by itself ordinarily costs $20. Humble Bundle won't be offering this collection permanently, though. You've only got two weeks to purchase it.
Staff Writer at CinemaBlend.