Incredible Adventures Of Van Helsing II Pre-Orders Start Now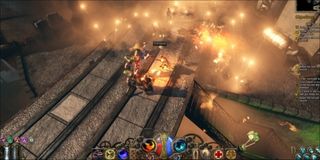 If you're still in the mood for a good isometric, hack-and-slash RPG, then Neocore Games is looking to provide you with the fix you so eagerly seek.
Their latest title is The Incredible Adventures of Van Helsing II and they've recently announced that this steampunk, action-RPG is currently available for pre-order right now.
As mentioned in the press release...
Now, I've got to be honest. I'm not big on pre-order schemes. Period.
Whether you're an indie or a triple-A publisher trying to push the latest in pseudo-realistic modern warfare or you want people to buy a dingle for your dongle that hangs loose while you do your duty in the latest rehashed port in a franchise that's more old and haggily than the scar tissue on Dusty Rhodes' forehead, the pre-order regimen of convincing gamers to lay down cold hard cash (or credit card numbers) before a game releases always churns my stomach in a direction that doesn't quite sit natural with the way of things.
I do, however, feel that The Incredible Adventures of Van Helsing II promises some great features and content. The game is also coming off a very moderate first game that was at least polished and playable.
What's more is that Neocore has an exceptionally spiffy infographic comparing the base games of the original Van Helsing with Van Helsing II, and I would be hard pressed to say that the feature comparison doesn't prickle my fancy in a good way like a boot enjoys the soft crunch of leaves before the fall of the sharp cold from winter. Don't take my word for it, though. Check out the infographic below.
Now, if you think honestly liked the original Van Helsing and you trust what Neocore is doing with the sequel, I wouldn't be averse to your taking a liking to the concept of pre-ordering the game. In fact, I might even beseech you to explore that option if you were quite fond of the original.
However, for anyone who has a lingering series of doubts clinging strong to the very fibers of their cognitive instruments to rationalize decision making, I would advise you to hold your course and stay that path until you can gauge the game properly with user reviews and appropriate forum discussions.
You can learn more about The Incredible Adventures of Van Helsing II by paying a kind visit to the official website. The game, as indicated in the press release, is set to drop on April 17th of this year for PC... for only $14.99.
Staff Writer at CinemaBlend.
Your Daily Blend of Entertainment News
Thank you for signing up to CinemaBlend. You will receive a verification email shortly.
There was a problem. Please refresh the page and try again.