Indie Game Challenge Voting Sweepstakes And Finalists Announced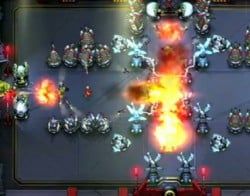 Word has been sent out that not only have 12 finalists been chosen in the Indie Game Challenge, but those who vote for the finalists have a chance to win a sweepstakes. It's like an absolute win-win situation for everyone.
According to the press release…
The Gamer's Choice Award is part of the $350,000 prizes available in the Indie Game Challenge. The winner of the GCA will walk away with $10,000 when they're announced at D.I.C.E. in Las Vegas, on February 19th. That very same day will also play host to the unveiling of the Indie Game Challenge winner.
You can check out the finalists of the IGC below or visit the Official Website for more information.
Non-Professional Category (Game/Team)
• Climb to the Top of the Castle – TwO Bros. Games
• Dreamside Maroon – Terraced
• Galactic Arms Race – Galactic Arms Race
• Gear – Team 3
• Waker – Poof Productions
• zeit2 – brightside games
Professional Category (Game/Team)
• Aaaa! A Reckless Disregard for Gravity – Dejobaan Games, LLC
• Altitude – Nimbly Games
• Cogs – Lazy 8 Studios
• Fieldrunners – Subatomic Studios
• Miegakure – Marc ten Bosch
• Vessel – Strange Loop Games
Staff Writer at CinemaBlend.
Your Daily Blend of Entertainment News
Thank you for signing up to CinemaBlend. You will receive a verification email shortly.
There was a problem. Please refresh the page and try again.