Iron Front Liberation 1944 Vehicles And Soldier Screenshots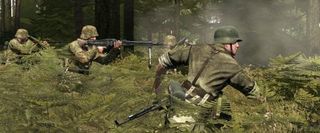 If you've been looking for an alternative to Battlefield 1943, Deep Silver has an answer for you and it's called Iron Front Liberation 1944. In Iron Front tacticians and infantrymen will battle to control the front using soldiers and vehicles to get the job done.
Deep Silver let loose a series of new assets today for Iron Front featuring the game's aerial bombers, the Petljakow Pe-2 as well as the dreaded Junkers Ju-87 Stuka. Screenshots have also been released for some of the soldiers players will control.
As stated in the press release...
Unlike some publishers out there who whine and bombard PC gamers with DRM and ridicule about piracy, Deep Silver is just moving on ahead and publishing games that gamers are willing to pay for. Iron Front Liberation 1944 is set to release in 2012 exclusively for PC. You can learn more by visiting the Official Website.
Image 1 of 7
Image 2 of 7
Image 3 of 7
Image 4 of 7
Image 5 of 7
Image 6 of 7
Image 7 of 7
Staff Writer at CinemaBlend.
Your Daily Blend of Entertainment News
Thank you for signing up to CinemaBlend. You will receive a verification email shortly.
There was a problem. Please refresh the page and try again.