If It's Cute Enough To Cuddle, It's Cute Enough To Have Its Own Game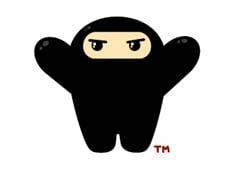 Some of the cutest damn plush toys you could ever hope to squeeze the stuffing out of are due to star in their own DS game. It's a good thing too, because the game industry has been really itching for a new cute mascot for kids to play on their handhelds while the Olsen twins are in rehab.
I kid, I kid. Seriously though, the game is called Ninjatown and it is based on Shawnimals, a line of adorable plushies and other cute merchandise created by Shawn Smith (former editor at EGM). While the cynics might expect this to be a lame platformer in the vein of most other licensed games, the joke is on them: This one is an action-strategy game.
The premise is pretty simple: You control a group of ninjas and help them protect their home from the invading army (led by one Mr. Demon) by placing them in specific areas. It seems like a typical turn-based strategy game at this point, but kudos to the people at Shawnimals for being inventive enough to make the game seem interesting and cute.
Look for Ninjatown in fall 2008, and in the mean time check out the Shawnimals and Ninjatown websites for more info.
Your Daily Blend of Entertainment News
Thank you for signing up to CinemaBlend. You will receive a verification email shortly.
There was a problem. Please refresh the page and try again.