JoWood Releases Games Via Big Fish Games Platform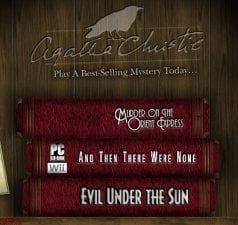 JoWood, publisher of hit games like Gothic 3, has announced that they plan to release a series of games across the Big Fish Games digital distribution platform. JoWood Studios has already signed an agreement making Agatha Christie's games available on Big Fish.
"The Big Fish Games platform is the perfect place to introduce our adventure games to a huge audience of casual players," explains Stefan Berger, Head of Business Development at JoWooD.
The two Agatha Christie titles currently available on Big Fish Games are And Then There Were None, and SafeCracker. Both titles are available for the budget price of $19.95, or available for the super-extreme budget-price of $6.99 with the Big Fish Game Club membership. This kind of makes you wonder, though, if these games are this cheap and offer the kind of fun that they do, why do Wii shovelware titles cost just as much with less gameplay? Zing.
You can check out the Official Big Fish Games Website for more info or be sure to stay tuned in with Blend Games for more news and info regarding all things gaming.
Your Daily Blend of Entertainment News
Staff Writer at CinemaBlend.