Killing Floor Free Weekend Begins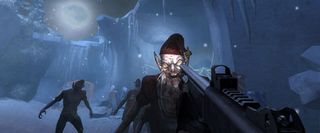 Co-op survival horror game Killing Floor is now open to all interested gamers. The game is free to play through Steam from now until Sunday at 1 PM PST.
"Killing Floor is a Co-op Survival Horror FPS set in the devastated cities and countryside of England after a series of cloning experiments for the military goes horribly wrong," says the game's Steam product page. "You and your friends are members of the military dropped into these locations with a simple mission: Survive long enough to cleanse the area of the failed experiments!"
The game's Twisted Christmas event began yesterday. The event introduces a new map, "Ice Cave," filled with holiday-themed enemies. Players will have seven new weapons at their disposal in their struggle for survival. By completing the Twisted Christmas achievements, you'll unlock a "Baddest Santa" character. The event will run until January 4th.
If you decide Killing Floor is worth buying, you'll be able to pick it up at a discount. You can buy it through Steam for $5 (a 75% discount) between now and Monday at 10AM PST.
Staff Writer at CinemaBlend.
Your Daily Blend of Entertainment News
Thank you for signing up to CinemaBlend. You will receive a verification email shortly.
There was a problem. Please refresh the page and try again.