Konami And 2K Sports Join Forces For The Ultimate MLB Power Pros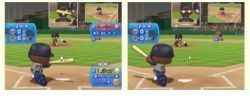 Konami and 2K Sports have recently announced their new upcoming title, MLB Power Pros. Yet for some reason I can't help but ponder on power-chord themes while two buff "macho" guys high-five after blowing up a terrorist-filled stadium with an explosive baseball and their high-tech baseball bat. Yeah, seems cheesy enough. But in reality, MLB Power Pros is based on the popular baseball sim from Japan. And now it's coming to America this fall.
"For years, Konami's Power Pro Baseball has been Japan's No. 1 baseball game, in sales and fan ratings," said Kazumi Kitaue, Chairman and CEO of Konami Digital Entertainment. "Now, in an excellent partnership with 2K Sports, it is with great pleasure that we bring Power Pro Baseball to the North American market as MLB Power Pros, where this great sport was born."
I would have preferred the high-tech baseball bat that could blow stuff up with rocket-propelled baseballs. Not to mention the accompanying power-chord ballads and the cheesy one-liners from the white guy and his African American "partner". Oh, I crack myself up.
Anyway...sadly MLB Power Pros won't be an 80's knock-off of a bad-action flick. Instead, it will follow in the likes of the Jikkyou baseball art-style (i.e., small figurine like characters that almost look like Mii's) except all the characters will be represented according to the real life counterparts; facial expressions, hair styles, personality and everything else in between.
MLB Power Pros will also contain easy pick-up-and-play mechanics and various game playing modes to keep even the most die-hard of baseball fans coming back for more. The game is expected to be widely available for the PlayStation 2 and Nintendo Wii, this fall.
MLB Power Pros Features:
• Over a dozen different game modes
• MLB Power Pros offers great long-term playability highlighted by the detailed Season Mode and popular Success Mode.
• With Season Mode, players become an MLB team general manager with the goal of winning the World Series by controlling all aspects of the team including training players, purchasing better equipment, making trades, and much more.
• Success Mode combines traditional role-playing elements with baseball scenarios to create one of the most unique and compelling game modes in any sports title. This story-based mode puts the user in the role of a college baseball player with the goal of becoming a Major League player – gamers will train the player in numerous games while dealing with real-world situations of academics, part-time jobs, and other social situations.
• Amazing animations will be seen in the field with incredible double plays, diving catches, and even home-run-robbing wall catches.
• Every MLB ballpark has been faithfully replicated with their respective famous landmarks, bringing astounding authenticity to every game.
Your Daily Blend of Entertainment News
Staff Writer at CinemaBlend.