League of Legends Gets Spectator Mode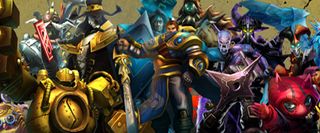 The latest patch for Riot Games' League of Legends has added the much-requested spectator mode. While a record or replay function are not present, the mode still has its fair share of useful functions.
In addition to timeshift controls, a camera delivers assistance to players pertaining to most important aspects of a battle. The new mode also adds a featured games system, allowing players to view some of League of Legends' best players.
As detailed by Riot Games, the specifics of the spectator mode are:
Spectate Your Friends: In the full release of Spectator Mode you'll now have the option to drop in and watch a friend's game that's currently underway. To select this option, simply right click on their nameplate in your Friends List, and select the "Spectate Game" option to begin watching. You will immediately join the selected game with the standard, three-minute delay already factored in. There's no limit on how many players are allowed to observe a friend's game in this manner.
Featured Games: Interested in watching a few matches featuring players at the very top of League of Legends? When you load the client, you'll now have a list of live Featured Games that you can view. These games showcase some of the best players that League of Legends has to offer, so be sure to check them out any time you're interested in viewing some high-level play. There is no limit on how many players can observe a featured game.
Timeshift Controls: We know how frustrating missing an important moment while viewing a heated battle on the Fields of Justice can be. So to prevent you from ever missing a beat, we've added the Timeshift controls to Spectator Mode. Through Timeshift you can rewind, slow down, or even pause the live game you're observing to take in all the action at your own pace. Once you're done, you can fast forward or jump ahead to catch back up with the progress of the match.
Directed Camera: By engaging Directed Camera mode you can allow the computer to guide your perspective, automatically selecting the most interesting action on the field. While this mode is engaged, the computer will analyze everything that is currently happening in the game and select the most significant event, whether it's First Blood, a team fight or a baron attempt. You can even select a specific player that you'd like the Directed Camera to focus on, or jump to another event by pressing the space bar.
Your Daily Blend of Entertainment News
Your Daily Blend of Entertainment News
Thank you for signing up to CinemaBlend. You will receive a verification email shortly.
There was a problem. Please refresh the page and try again.