League Of Legends' Pro Player Fines Donated To Charity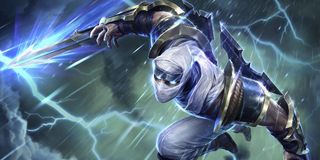 League of Legends's professional players were fined a total of $31,850 during the 2014 LCS season. Riot Games revealed today that they donated all of that money to charity.
Riot gave the money to The Trevor Project, an organization that provides suicide prevention and crisis intervention for free to LGTBQ (lesbian, gay, bisexual, transgender, and questioning) youths.
"We loved the organization's approach to creating a safe and inclusive environment for everyone through suicide-prevention phone, IM and text messaging services as well as TrevorSpace, the largest social networking community for LGBTQ youth all over the world," said Nick Allen, Riot's League Operations Manager. "We support their commitment to stamping out bullying and discrimination wherever it comes up, and we admire their transparency as an organization."
Fines were collected for several types of violations of LCS rules over the 2014 season. The violations ranged from poaching other team's players to racism to sharing accounts.
League of Legends's community has a reputation for toxic behavior. I've met a lot of friendly and cooperative players but a fair amount of pricks, too. LoL is a very competitive game, even at lower amateur levels, so players get very heated in matches. These antisocial tendencies are why Riot created incentives for good behavior and a new automated system for banning troublemakers.
In spite of that reputation, Allen says that LoL players have demonstrated that preventing suicide and homophobia is important to them.
"When we looked at in-game reports, we found that games that included the word 'faggot' in their chat log received 165.84% more reports than games that included the word 'fuck'. Likewise, you were swift to punish players who encouraged others towards suicide in the heat of the moment - games that included 'kill yourself' in their chat logs received 225.65% more reports than games that included the word 'fuck'."
"As a community, you find these words hurtful and unacceptable and so do we. We know that harassment and its consequences goes beyond just words in a game - and that's why the work of organizations like The Trevor Project is so important. We hope that this money will be able to boost their work creating a safe and inclusive environment for all of us, regardless of sexual orientation."
Allen adds that they'll support other charities and non-profits in the future. They'll announce their "developing philanthropy and charity approach" in the coming months. In the meantime, they're hoping for feedback and ideas from players.
The 2015 LCS season is currently underway. The World Championships will be held in Europe this fall.
Your Daily Blend of Entertainment News
Staff Writer at CinemaBlend.