Legends Of Zork Now Available And Free-To-Play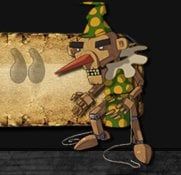 This is not an April fool's joke, dear readers. This is, in fact, real news about a classic series actually being made available for free-play. Jolt Online Gaming has just announced that Legends of Zork is up and running after successful beta-testing. This means that you don't even have to finish reading this news post to start playing the game, but I wouldn't suggest that.
"We've designed LoZ to be as accessible as possible, hoping to appeal to both original Zork fans (and there's enough of them working on this that we should know what we're talking about), while also trying to bring in a whole new generation of players", said Dylan Collins, CEO of Jolt Online Gaming, "We appreciate that Zork is a hallowed franchise, and we have tried our very best to keep within the spirit of the game and pay it the reverence it deserves, while also making some obvious changes to open it up to a wider audience".
Players will be able to experience the classic series in a whole new way, with their browser. Yep, Zork is entirely browser-based and features adventuring like never before. Jolt is also hoping that you gamers don't hate them for the new changes made to the game…and being that it's browser-based, there's always the possibility of much to being hated, despite the convenience of playing it from a web-page.
Nevertheless, for those of you who are fans of the series or if the name is completely new to you, you can check out the Legends of Zork by visiting the Official Website. For more gaming news, info and updates, be sure to stay tuned in with Blend Games.
Your Daily Blend of Entertainment News
Staff Writer at CinemaBlend.