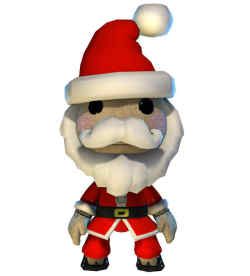 So you've been working on that Christmas-themed LittleBigPlanet level for weeks and you're just about to polish it off and show it to your friends, but something's missing. It takes you many days to figure it out, but once you do, you realize it's something you can't control. You need your Sackboy to be Santa; that's the only way your level will be complete. It's a shame that out of all the creation options available to you, making costumes is still left to the experts.
But never fear! Sony has announced that they will be giving away a complete SackBoy Santa outfit for free. Starting on Thursday, the 11th, the pants and sweater of Santa will be available, and then next Thursday, the 18th, the hat and beard will released. They'll only be available for a short time (until January 8th), so get them quick.
While I appreciate the free costumes they've been releasing, when are they going to release new content? I realize the whole game is just user-created content, but I'm kinda hoping that Media Molecule releases more objects or even more paint jobs for the materials already available. Maybe next year...
Your Daily Blend of Entertainment News
Thank you for signing up to CinemaBlend. You will receive a verification email shortly.
There was a problem. Please refresh the page and try again.