Lucent Heart: Online Dating MMO Media Blowout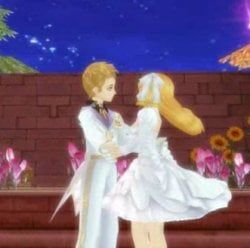 You would think that with all those spam-bots promoting online dating all across the entire web there would be no need for an MMO that pretty much aims to do the same thing. Then again, with all those online dating spam bots maybe Gamania is on to something with trying to siphon in a demographic that seems gung-ho for finding romance online. Pushing forward with the promotion of the new game, a series of new gameplay videos were released featuring the odd combination of sword fights, boss battles, walks on the beach and weddings.
If that combination didn't spark your fancy, maybe some super-romance power-up abilities will. That's right, if you're in love enough with whoever Cupid tossed you together with, then you can unlock your super fiery-eyed special ability to unleash on some big evil boss. Now that's romance!
Anyway, gamers who don't mind playing the dating game in a, uh, dating game, will probably find themselves duly enthralled with what Lucent Heart has to offer. You can check out the new videos for the game below or visit the Official Website to learn more about Gamania's free-to-play MMORPG.
Your Daily Blend of Entertainment News
Staff Writer at CinemaBlend.