Lucent Heart: Same Sex Marriage Vote And Japan Relief Announced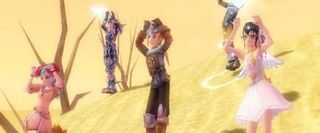 Gamania has two big announcements for today. The first announcement is that there are donations currently running where $5 are donated to the relief fun for every fan that joins the Lucent Heat Facebook page. The second announcement is that gay marriage is being taken into consideration for the game.
If you enjoy your bananas being with bananas and your peaches being with peaches then you'll probably enjoy the new voting measure being undertaken for Lucent Heart, which allows gamers to vote for or against same-sex marriage in the romance-ridden MMORPG. It looks like the politics of sociality goes from real life and into the virtual life.
For those of you would like to contribute to the Japan relief fund, simply head on over to the Official Lucent Heart Facebook Page and click 'Like' to automatically add $5 to the relief fund.
Gamers who are all socially motivated to get their political views across in the world of video games, feel free to join the vote for or against gay marriage over at the Official Lucent Heart Website. This will ultimately determine if two man-nerds in real life playing female avatars can get it on in the game or if two chicks playing male avatars can lock lips in the game. I guess this just proves anything is possible when digital romance is involved.
Staff Writer at CinemaBlend.
Your Daily Blend of Entertainment News
Thank you for signing up to CinemaBlend. You will receive a verification email shortly.
There was a problem. Please refresh the page and try again.