MGS4 Preview: The Bosses Are Actually Hot Chicks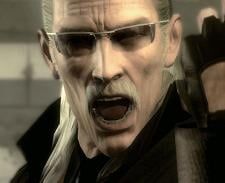 Beauty and the Beast. That's Kojima's planned story theme for the upcoming Metal Gear Solid swan song entitled: Guns of The Patriots. What's the biggest shock? These metal-clad beasts of pure death? Underneath all that armor, they're secretly hot chicks.
In what seems to be a slight nod to Samus Aran of Metroid fame, this time around, MGS's standard-issue anthropomorphic boss characters were modeled after beautiful women who were somehow transmogrified by war into hideous metal creatures of sheer whoopass. Laughing Octopus, Raging Raven, Howling Wolf and Screaming Mantis all look ferociously menacing if not entirely inspired. Longtime fans of the series might recognize that the surnames of the new boss characters bear some resemblance to members of FOXHOUND from the original Metal Gear Solid. Though the characters are visually ferocious, it's hard to deny that they're also profoundly gray and look somewhat cliché by today's standards, as though they were lifted out of your generic 4000 tons of boring gray armor FPS title.
Both the trailer and Kojima hint that something more is going on with these maidens of death. The awful voiceover in the trailer explains "they weren't even soldiers to begin with." From the Press release: "All were initially good people who, for various reasons linked to events in the Metal Gear Solid series and events they have seen in countless wars, are now altered beyond all recognition both physically and mentally – and are perfect examples of the 'Beauties and the Beasts' themes that run throughout MGS4."
The idea that "war" transforms and screws over otherwise good people is hardly a new theme for the MGS series, which is why Kojima is notorious for giving an arguably insane amount of backstory to the boss characters in an attempt to humanize them. If this is classic Kojima, then no doubt we're about to be treated to marginally dubious story about the horrors of a plutocratic war in which the little guys are caught in the middle. Oh yeah, and some of them have turned into wolves and octopi for some conveniently unspecified reason. The premise itself is tangible, but Kojima tends to tread a fine line between authentic and melodramatic in his actual storytelling and often sways to one side too strongly. Fortunately, the gameplay has historically always been sound, and myself and millions of other MGS fans will happily eat this stuff up come early 2008.
If only for the hawt chix.
Your Daily Blend of Entertainment News
Thank you for signing up to CinemaBlend. You will receive a verification email shortly.
There was a problem. Please refresh the page and try again.