MMO Brawler Lost Saga Enters Open Beta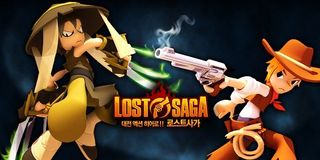 With Lost Saga's relaunch just around the corner, all fighting fans are being called to sign up for the open beta, which is now underway. If you can't wait until May 2 to finally get your hands on the new version of Lost Saga, now is the time to act.
Originally released a few years ago by OGPlanet, this latest version of Lost Saga takes everything players enjoyed about the original free-to-play MMO brawler and cranks it up to 11. When the WeMade Entertainment version launches on May 2, it'll come packed with a fresh new look, all new characters and upgrades and plans to continuously roll out additional content in the coming weeks.
"Lost Saga fans are getting ready to join the battle once again as we near our May 2 launch," said WeMade CEO Philip Yun. "We've worked hard to reward players with fresh content and new heroes to create an amazing experience."
In the game, players take control of heroes from fantasy, history and Sci-fi in order to duke it out in massive arena-style battles. Each of the initial 50-plus characters has their own abilities, which can be leveled up individually. Teams of up to 16 players can participate in a bunch of different game modes, including a tag-team style swap-out mode.
The roster and gameplay will continue to evolve past launch, too, as WeMade have announced new Premium characters and regular content updates are inbound. A total of 15 new heroes are currently planned, as well as two new game modes and four new maps. New players will be granted 30 hours of play time with the new heroes, as well as 100,000 gold to spend in-game and three permanent gear chests. Even better is the fact that anything you do in the beta will carry over to the final launch.
To jump into Lost Saga, just head on over to the game's official website and get to pummeling your foes.
Your Daily Blend of Entertainment News
Staff Writer for CinemaBlend.