Macross: Ultimate Frontier Goes For Gameplay Overkill In PSP Debut Trailer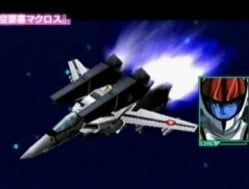 I honestly didn't think it was possible but Namco Bandai actually managed to make a handheld game that offers so much stuff it's literally gameplay overkill. The new Japanese debut trailer for Macross: Ultimate Frontier showcases a heck of a lot of stuff that can be done in the game and whether it comes to North America anytime soon the awesome new trailer is definitely worth checking out.
I suppose it's better for a game to have too much than to not have enough. But seriously, this game is jam-packed with content: players take on classic Macross space combat that fills the screen to the brim with non-stop action. However, it just doesn't end with arcade space combat…Bandai takes things a step further with various environments for flight simulated action, including crowded cities and techno-spheres for larger-than-life boss battles.
The game isn't just about flying around, though. Bandai tossed in some ground based combat, too. Players will take their armored war machine to the streets, battling foes with a large cache of devastating projectiles and various explosive devices. The game doesn't end there, though…players will also get versus matches that include hand-to-robot-hand combat and much more.
As I mentioned earlier in the article, the game is jam-packed with content. It's like one of the biggest robot games to ever come to the PSP. You can check out the lengthy Japanese debut trailer for the game below and we'll keep you posted here at Blend Games as to whether this game will get a North American release date. For more info on Namco Bandai feel free to visit their Official Website.
Staff Writer at CinemaBlend.
Your Daily Blend of Entertainment News
Thank you for signing up to CinemaBlend. You will receive a verification email shortly.
There was a problem. Please refresh the page and try again.