Magicka Free DLC Released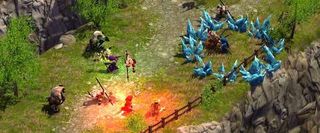 A new Steam update for fantasy action game Magicka went live this weekend, bringing new free content. The DLC carries the curious name of "Mea Culpa."
The DLC is basically poking fun at the bugs that plagued the game on release. The developers have released 11 patches since the January 25th launch so the game's a cleaner beast these days. Here's the list of new items included in the DLC:
"Bugged Staff" - summons a swarm of bugs.
"A broken sword"
"Patched Robe"
1 Magick - "Crash to Desktop - Magick - zaps any foe (or friend)
Staff Writer at CinemaBlend.
Your Daily Blend of Entertainment News
Thank you for signing up to CinemaBlend. You will receive a verification email shortly.
There was a problem. Please refresh the page and try again.