The Many Weapons Of John Woo's Stranglehold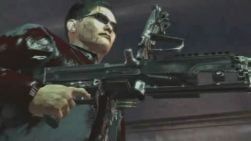 Oh boy, where do does one begin with a game that has more bullets firing from a gun, than a soap opera has tears being cried? I mean, you must know that's a heck of a lot of bullets via comparison. But of course, these small metal instruments come from destructive devices, and the following trailer will give you some good insight as to how Inspector Tequila puts such devices to use.
Now to call this game "highly anticipated" would be an insult to the kind of response gamers have been showing to this interactive masterpiece in the making. Unlike other shooters out there that have undoubtedly worn out their welcome, Midway's Stranglehold holds firm to providing equal amounts of blood, gore and explosive entertainment. Now that's a rare combination found in any video game to date. Not only that, though, but Stranglehold is literally one of the best looking games of the year. Very few other titles even come close to the kind of visual representation that it carries.
But enough gloating...the following trailer you're about to see sets up a nice tone for what the shooting mechanics will be like (for just about every weapon) in this game. The trailer shows off shotguns, pistols, automatic weapons, rocket launchers and more. As always, there's some great physics driven deconstruction effects, and there's even a nice cliche of a bad guy falling over a rail and into boxes. But it looks oh-so-much better in this game than it ever has before.
Your Daily Blend of Entertainment News
Staff Writer at CinemaBlend.