McPixel, First Greenlight-Voted Game Now Available On Steam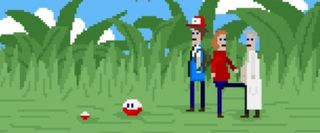 McPixel, the digitally crude adventure game from Sos Mikolaj Kaminski, is now available on Steam's store for $4.99. The game was voted to become available on Steam via Valve's new Greenlight community service, where the power of the consumer is put into the hands of democratic gamers.
The service was originally pelted with criticisms over fake entries, troll posts and game suggestions. A lot of people either didn't want to understand how Greenlight worked or bother to find out. Eventually, this lead to a one-time developer submission fee of $100. The fee enabled the user to submit games to the service and it weeded out all the fake, time-wasting trolls who aimed to ruin a good thing for independent developers.
Thankfully, the service has evened out and we're now seeing a higher quality of submissions from publisherless game designers and small studios. One of those games was McPixel from Sos, which gained a ton of support after the developer joined forces with the Pirate Bay to promote his game and give it away for free, prompting for a ton of media coverage and a lot of support from gamers to up-vote McPixel on the Greenlight.
As for the game itself...McPixel is a collection of random events involving a red-headed dude trying to dispose of bombs. As simple as it sounds, the adventure itself is riddled with crazy antics, over-the-top comedic moments and lots of innuendo. There's also a lot of pissing on aliens, but that's a story for another time.
If you're looking to embrace the absurdity that is McPixel, be sure to learn more or pick up a digital copy right now on Steam over on the Store Page.
Staff Writer at CinemaBlend.
Your Daily Blend of Entertainment News
Thank you for signing up to CinemaBlend. You will receive a verification email shortly.
There was a problem. Please refresh the page and try again.