MediEvil Resurrected In Skyrim Mod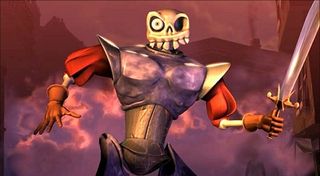 While no new MediEvil games seem to be in the works for as far as we know, officially, at least gamers who are fans of the old PSX hack-and-slash title have managed to revive the game in Skyrim as a partial conversion mod, starring the protagonist of the title, Sir Daniel Fortesque.
Over on Nexusmods user KorinOo posted up the partial conversion called Hero of Gallowmere. It features the first four levels from the original PlayStation version of MediEvil. You can see what it looks like with the teaser below.
The game plays out in a linear fashion, just like on the original PlayStation. Players will use the sword and board fighting mechanics featured in Bethesda's Skyrim to roll out attacks against enemies and guide Fortesque through the haunted environments.
The entire levels, arenas and boss fights were hand-crafted and recreated from scratch. This gives players an opportunity to explore some of the classic designs that were featured in the old third-person adventure title from back in the late 1990s for the first time on high-end PCs with HD graphics and improved gameplay.
I was never really a fan of the MediEvil games due to the sometimes shoddy controls, wonky camera work and terrible frame-rate. However, it was a popular niche title for gamers who enjoyed the undead themes, the wry humor and the non-stop action-adventure.
It's pretty cool that some fans who are so dedicated to these old properties were able to recreate them in newer games using the latest in technological advancements when it comes to texture work, lighting and play mechanics. Using Skyrim as a base for the recreation of a PSX classic gives the game was a smart idea, it already houses a lot of the medieval themes that MediEvil was known for and with a few slight tweaks it almost looks and sounds like it could be a professional production.
I'm curious just how long and how far this mod will be supported? It definitely has the potential to be a solid hit, as it's already garnered 11,000 views so far.
KorinOo managed to implement some challenging puzzles and implement some collectible trinkets that contain trivia questions about the original PlayStation One release of the game.
It's great to see things like this coming out of the modding community because if they didn't do it, who would? It's stuff like this that gives me hope in the future of preserving some classic games from years passed.
If you want to add the Hero of Gallowmere mod to your collection, you can do so right now. You will need the two Skyrim DLC expansion packs, Dawnguard and Dragonborn, but otherwise you'll be good to go. You can download the mod right now from over on the Nexusmods website.
Your Daily Blend of Entertainment News
Staff Writer at CinemaBlend.
Your Daily Blend of Entertainment News
Thank you for signing up to CinemaBlend. You will receive a verification email shortly.
There was a problem. Please refresh the page and try again.