New Metal Gear?! Power Symbol?!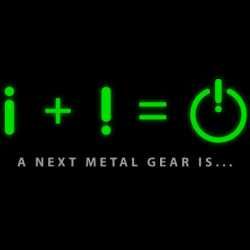 Ohh, that kooky Kojima. He's always out there to confuse anybody that approaches his work, and it looks like he's at it again. Just a few hours ago on the KojiPro (that's Kojima Productions) site, a teaser was posted that seems to indicate, well, nothing, really.
According to the the teaser page, "The Next Metal Gear is ..." The exact image from the site on the right.
Don't strain yourself too hard trying to figure this out. It's either a new Metal Gear Ac!d or something for the 360. Or neither of them. I really don't know. And neither does anybody else. Stay tuned to Blend Games as more develops.
Your Daily Blend of Entertainment News
Thank you for signing up to CinemaBlend. You will receive a verification email shortly.
There was a problem. Please refresh the page and try again.