Microsoft's Disk Cleanup Can Harm Your Hard Drive After Installing Heroes & Generals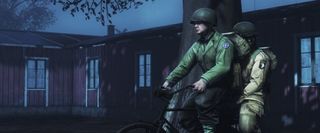 Gamers playing Heroes & General seemed to have found a weird bug in Microsoft's Disk Cleanup utility. If you install the game and then try to run disk cleanup you run into a pretty nasty bug. Reto-Moto was able to replicate the problem and are working on a workaround right now.
The bug is triggered by any full file path that stretches out longer than 260 characters. In result, it starts eating away at your hard drive contents and deleting stuff it shouldn't. Yikes.
Reto-Moto explains it a better with their very own summary...
There are a few extra steps to follow to get the thing fixed, check it out below.
You can locate the %temp% folder and delete the HNG folder like this:
1. Click on the "Start" button in Windows
2. Write '%temp%' in the Search field and press enter
3. This opens a window showing the content of the %temp% folder.
4. Find and delete the folder called 'HNG'
With such bummer news how about we do something to cheer you up, like show off some new screenshots and a trailer? Yeah, I'm sure gamers would like that. You can check out the new Heroes & Generals screenshots below, along with a new trailer.
You can sign up for the beta right now by visiting the Official H&G Website. And remember, after installing the game DO NOT run disk cleanup. Well, not until they patch the game. After that then you're good.
Image 1 of 2
Image 2 of 2
Staff Writer at CinemaBlend.