Minecraft Was Meant To Be Genderless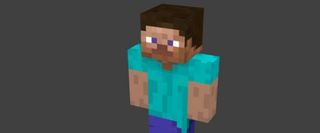 If you were worried about gender roles in a game like Minecraft, former lead designer Marcus "Notch" Persson doesn't want you to even think about stuff like that. The game was purposefully designed to be genderless, or as close to it as the designers could get within a blocky 8-bit graphic design.
According to a blog post on tumblr [via BeefJack] from "Notch", the former lead designer says that when he was in charge of the game the last thing gamers needed to worry about was whether things were male or female...
I don't know if I can really buy that only because the "character model" still looks more masculine than genderless, something even "Notch" admits to. But maybe because in real-life guys are generally more rectangular and females are generally more oval shaped, so having Minecraft characters as squares automatically makes them closer to representing males than females.
Anyway, Marcus expressed his regrets about specifying a gender to the default-guy as well as the "masculine" terms used to identify the Minecraft character. I'm guessing this post was in response to a lot of feedback regarding gender representation in the game, this is also hinted at in the twitter feed.
You can check out the entire post over on "Notch"'s Tumblr blog.
Your Daily Blend of Entertainment News
Staff Writer at CinemaBlend.