This Mod Makes GTA Nearly Indistinguishable From Real Life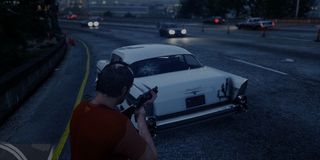 A new mod has surfaced for GTA V to give the game a near photo-realistic look. No, it's not the much-anticipated iCEnhancer mod from Hayssam Keilany. It's called the Toddyhancer and it does the same thing that the iCEnhancer does: make GTA V nearly indistinguishable from real life.
VG 24/7 picked up the news from an imgur post from Toddyftw, real name Martin Bergman, who showcased photos of GTA V with the Toddyhancer turned on. You can check out the images in the album below.
"
Images are definitely worth a thousand words but I imagine a video is worth 10,000. Bergman posted up a short work-in-progress clip of the mod in action, running in real-time in GTA V with many of the enhanced graphical features turned on and turned up so you can see just how gorgeous the game looks running on PC. Check it out below.
If it looks like it's running crap-tier that's because it is. According to Bergman's Facebook post the mod will knock off anywhere between 10 and 20 frames per second. Yikes.
If you were averaging 30fps in GTA V prepare to watch a slide-show. If you were playing the game steadily between 40fps and 60fps then you'll be looking at a drop down into console-performance territory.
Keep in mind that Bergman was running the video above on an Asus ROG G751JY, which is a 17-inch gaming laptop with an Nvidia GTX 980m. That's a far more powerful laptop than the Asus GL551JM we reviewed here at Gaming Blend.
Bergman does state that he will tweak the mod to run on lower tier computers, but keep in mind that the mod uses temporal anti-aliasing, Reshade shaders to increase the game's reflective detail and lighting, as well as enhanced real-time shadows and ambient dither thanks to Boris Voronstov's ENB series mod.
The Toddyhancer is about as close to path-tracing as you'll get in a GTA game this generation (or until Hayssam Keilany releases a really kick-butt version of the iCEnhancer); so if you don't have a high-end PC your computer will come to a screeching halt as far as performance is concerned when trying to run this mod.
If Bergman had problems running GTA with this mod on a gaming laptop with a GTX 980m you would likely need a GTX 960 at the bare minimum to run this decently and you might have to overclock the card. And Intel i7 and well over 8GB would be required. And, of course, the GPU would have to have more than 2GB of VRAM if you want to turn on any of the enhanced shadows or lighting effects.
You can keep track of the Toddynhancer by paying a visit to Martin Bergman's official Facebook page.
Staff Writer at CinemaBlend.
Your Daily Blend of Entertainment News
Thank you for signing up to CinemaBlend. You will receive a verification email shortly.
There was a problem. Please refresh the page and try again.