Monkey Island Co-Writer Tim Schafer Stars In His Own Adventure Game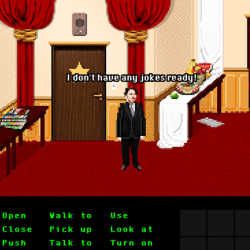 Double Fine Productions founder Tim Schafer will be hosting the Game Developers Choice Awards later this week. As a nod to his past work on Lucas Arts adventure games like Monkey Island and Full Throttle, Double Fine has released a retro adventure game starring Schafer.
The game is entitled "Host Master and the Conquest of Humor" and takes place in the green room before the GDC awards. Players control Schafer and must help him find some jokes for the ceremony. You can play the game in all of its VGA glory here.
Schafer's won at least two GDC awards of his own in the past - Best Writing for Psychonauts and Best New Studio for Double Fine, both in 2006. The GDC awards will take place on March 25th at 6:30 pm at the Moscone Center in San Francisco.
Your Daily Blend of Entertainment News
Staff Writer at CinemaBlend.