Monster Madness Officially A Game For Windows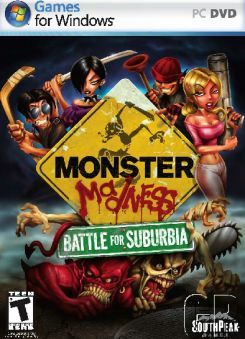 Passing an ACT or SAT is nowhere near as challenging as having to pass the GFW test...that's Games For Windows, in case you didn't know. This grueling exam is not for the game with a wallet-friendly minimum system requirement, but only the most graphically adept, and audibly overdone can make it as a certified Games For Windows title.
SouthPeak Interactive has, in fact, confirmed that Monster Madness: Battle for Suburbia, is now officially certified as a Games For Windows product, and that it meets the security and multiple configuration specifications to land the venerable title as a GFW.
Melanie Mroz, Executive Vice President of SouthPeak commented in the press release, saying..."We're overjoyed that Monster Madness: Battle For Suburbia is now certified as an official Games For Windows title. This additional seal of approval from Microsoft underlines the amount of effort and passion that has gone into Monster Madness' development, both for the Games for Windows and Xbox 360 versions".
Given the attention paid to said certification, one would think that the game has passed some civilly restrictive barricade. Anyway, Monster Madness: Battle for Suburbia is due out on June 22nd for both the PC and Xbox 360.
You can brush up on your multiplayer mayhem tactics, or tune up your chainsaw skills by gathering up more info from the Games For Windows Website, or the Official Monster Madness Website.
Your Daily Blend of Entertainment News
Staff Writer at CinemaBlend.