Nexon's Combat Arms, Dungeon Fighter Coming To Steam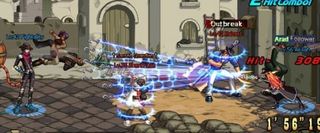 If the recent news about Vindictus becoming available on Steam got you all excited about more high quality, free-to-play MMOs arriving on Valve's digital distribution platform, then you'll probably be equally excited to know that Combat Arms and Dungeon Fighter will be coming to Steam as well.
According to GameIndustry.biz Intertional, Nexon America CEO Daniel Kim issued a statement, saying...
Combat Arms and Dungeon Fighter are easily two of Nexon's most popular action-oriented MMOs. Combat Arms picked up a ton of popularity for being a fast-paced, free-to-play shooter that has tons of game modes. The game, as it stands, has plenty of replayability with countless guns and gun customization options, PvP modes galore and PvE modes galore...plus, it has zombies.
Dungeon Fighter is a side-scrolling beat-e'm-up that marries old-school sprite-based combat with multiplayer cooperative questing and RPG stat-management. Both Dungeon Fighter and Combat Arms are pretty much guaranteed to pick up even more players once they become available on Steam.
The only thing I'm a little worried about is how the hacking will be dealt with. I haven't play Combat Arms in ages but hackers used to advertise all the time, selling premium cheats to the dysfunctional 12-year-old minded community. Then again, most of all Nexon games are highly popular and usually prime targets for premium hacks and exploits, so maybe they amped up security to deal with some of the new players who will eventually sign-up to play the games.
You can learn more by paying a visit to the Official Nexon Website.
Staff Writer at CinemaBlend.