The Next Big Thing Introduces Lady-Killer Dan Murray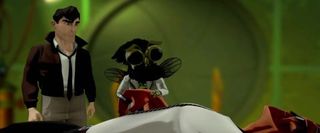 Who is set to co-star in Focus Home Interactive's colorful crime-caper? Well, none other than the Bond-look-alike, Dan Murray…whoever that is. Pendulo Studios and FHI sent out some new media assets showcasing the debonair sidekick in the upcoming dark-comedy adventure game.
As stated in the press release…
The Next Big Thing is sort of a spiritual gameplay successor to the widely popular Runaway series, which ended its run with a multiplatform bang. Gamers interested in continuing some crime-solving, tag-team couples adventuring can soon do so once The Next Big Thing lands on PC and Macs in April of this year.
You can check out the new assets for Mr. Dan Murray below or learn more about the game by visiting the Official Website.
Staff Writer at CinemaBlend.
Your Daily Blend of Entertainment News
Thank you for signing up to CinemaBlend. You will receive a verification email shortly.
There was a problem. Please refresh the page and try again.