Obsidian: Kickstarter Isn't What The Industry Needs, It's What Players Need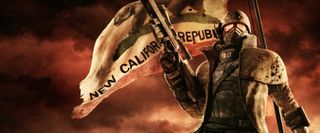 In a lengthy interview with Rock, Paper, Shotgun, chief creative officer Chris Avellone from Obsidian Entertainment talked about working with inXile on the upcoming Wasteland 2 as well as the role of KickStarter in getting games made that players want.
After that amazingly candid RipTen interview with inXile's Brian Fargo, a lot of people are now pining for more industry-inside info and poring over the finer details of the way the gaming business works. Avellone and crew from Obsidian are now helping Fargo and crew at inXile on Wasteland 2 since the KickStarter reached over $2.1 million in crowd-sourced funds. Rock, Paper, Shotgun asked if this is the sort of thing that the industry needs to bring developers and gamers close together and Avellone responded with the following...
That's a good point. We're oftentimes badgered as gamers about complaining about the current state of the industry as if it's some fault of our own. In a way it is...many gamers (mostly casuals) buy games being vastly misinformed about the product, and unknowingly support trends that lends credence to publishers, focus group managers and investors that the industry needs more dumb-downed AAA experiences and less originality. It's the very reason why Fargo was constantly shot down by big publishers when pitching Wasteland 2 to them...it wasn't a first-person shooter and it wasn't Gears of War.
Avellone went on to further clarify his stance on KickStarter, though, stating that...
It's funny but Chris also mentions that KickStarter could also be used for more than just games, such as a KickStarter for Joss Whedon's much beloved but mainstream-failure 'FireFly'.
Brown-coat fanboy-talk aside, RPS moves into some other interesting topics including the possible resurrection of Alpha Protocol, which in my opinion was a better choice-driven experience than Mass Effect, but Avellone stomps on hopes and dreams with this little revelation...
The entire interview is an interesting read, there's no industry-breaking comments but there's definitely plenty of insight to be had by checking it out over at Rock, Paper, Shotgun. For more info on the the Wasteland 2 KickStarter feel free to visit the Official Page.
Staff Writer at CinemaBlend.
Your Daily Blend of Entertainment News
Thank you for signing up to CinemaBlend. You will receive a verification email shortly.
There was a problem. Please refresh the page and try again.