When Oculus Rift Will Be On Sale Online...Before It Sells Out Again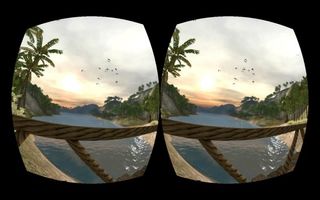 The first shipment of Oculus Rift headsets sold out within a mere 14 minutes and since then, it's been pretty hard to get your hands on one. But Oculus has announced that there will be a small window of opportunity coming up very soon where prospective buyers will be able to attempt to purchase an Oculus Rift. A very small window.
On Friday, May 6 at 9 a.m. PST, players and enthusiasts alike will be granted access to purchase Oculus Rift from online retailers like Amazon and Microsoft. But keep in mind that pre-orders will have to be caught up on first, so whatever's left is what'll be up for grabs. But if you don't want to test your luck trying to harness a small window of opportunity, you can always try your luck in-person—and try out. Best Buy just announced that they will be demoing the Oculus Rift at 48 stores to celebrate finally being able to carry the VR headset. So not only will the headset be available to purchase, but you can also try it out before buying.
The demos will offer an experience with Crytek's The Climb and the VR space adventure, Farlands. The Climb offers a terrifyingly realistic VR climbing experience climbing some of nature's most terrifying cliffs whereas Farlands has you traversing a mysterious planet and discovering alien life. Both VR games are incredibly immersive and different in the kind of experience each offers, so it's a good line-up for demoing what the Oculus Rift can really do. With how fast the first round of online sales selling out in a matter of minutes, it's almost worth it to get to a participating Best Buy early on to stand in line. At least if you it that way, you'll have some sort of fighting chance to get a headset. Whereas online, the headsets might disappear before your eyes with no control over who gets them first or how.
I honestly am waiting to get my hands on an Oculus Rift, if I even ever will. I am more interested in the more affordable alternative, The PlayStation VR. I don't have a computer anywhere near as powerful as what's needed to run an Oculus Rift and there's no way I have the money to pour into the pricey headset and a brand new gaming PC. And even if the price of the Oculus Rift drops considerably, I'll still have to buy a whole new, more powerful PC. To me, it's not worth it.
As mentioned above, the online sale will open on May 6 at 9 a.m. PST. Otherwise, you can hop on into a participating Best Buy to wait in line for a headset or try out the demo. More Best Buy locations stores will be participating as we get more into summer.