Offensive Combat Announced, U4iA's Call Of Duty Killer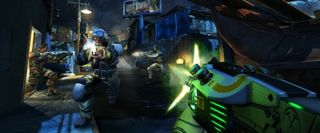 Hey remember a long, long time ago, in a fiscal quarter far away, U4iA's CEO Dusty Welch mentioned that they were gunning to dethrone Call of Duty and rival League of Legends? Well the game that is poised to do so is called Offensive Combat.
U4iA is an indie startup from former Activision veterans Dusty Welch and Chris Archer, the same guys who helped make Call of Duty into a reputable brand back when the original Medal of Honor series was being milked dry. The new studio aims to trump current trends and buck the mainstream agenda with a free-to-play shooter called Offensive Combat.
The game is a throwback to old-school multiplayer arena-style deathmatch games where the maps prompt for fast-paced matches and tightly knit firefights. What's more is that the game doesn't take itself too seriously, and lends a great deal of its content towards over-the-top madness.
U4iA Games CCO and Co-Founder Chris Archer commented in the press release that...
Ohh, talk about a dig at current monetary means. I'm sure when he means "pass on to the consumer" he's talking about things such as Call of Duty Elite and EA's current loose subscription-based custom servers for Battlefield 3.
It's easy taking digs at poor business practices that affect consumers negatively in the long run, but it's hard to follow through with something noteworthy and sustainable if you really want to invade the mainstream gaming space.
Offensive Combat will run in browsers and will support cross-connectivity support for mobile devices. Ultimately it's a casual approach to a hardcore game.
A few of the game's details are available below and additional details will be unveiled soon. You can visit the Official Website to learn more about Offensive Combat or sign-up to partake in the beta tests.
Offensive Combat Features:
• The game will be available free to play in web browsers
• Offensive Combat will let core multiplayer fans experience console-quality, high energy, frenetic first-person shooter competition anytime, anywhere
• The game will sport advanced customization options for players to express their own unique attitudes and personality.
Image 1 of 2
Image 2 of 2
Staff Writer at CinemaBlend.
Your Daily Blend of Entertainment News
Thank you for signing up to CinemaBlend. You will receive a verification email shortly.
There was a problem. Please refresh the page and try again.